Vendor Spotlight  |  September 22, 2021
by: Scott Stanley, Technology Lead
Our Spotlight is on...
Our vendor spotlight has turned to SESAMm. They have been gaining significant momentum, following their recent series B led by The Carlyle Group (NASDAQ | CG) and with the rollout of their ESG Streams product.
COMPANY OVERVIEW
WEBSITE
FOUNDERS
Sylvain Forte (CEO), Pierre Rinaldi (COO), Florian Aubry (CTO)
LOCATIONS
Paris (France), New York, London, Tokyo
EMPLOYEES
70
MILESTONES
04/2014 - SESAMm Founded
05/2015 - Acquired first client...a prop trading firm in London. Used SESAMm-generated social media signals for live trading
01/2021 - Series B round (to develop ESG and Private Equity use cases)
02/2021 - Hit the 50 employee mark
03/2020 - Gained Key client - The Carlyle Group (NASDAQ | CG)
09/2021 - Released ESG product on public and private assets
CLIENTS
Core: Hedge funds, asset managers, banks, insurers, private equity firms Growth Area: Private equity and financial institutions (leveraging data to track own clients and suppliers)
PRODUCT SUMMARY
DESCRIPTION
SESAMm products provide analytics and alternative data on millions of public and private assets from its data lake of 15B+ articles and messages. This data helps clients generate alpha and track risks, build signals and develop sentiment indicators across a broad spectrum--from ESG to retail investments.
DIFFERENTIATOR
Data - SESAMm has the largest data lake in the financial industry with 100s of different indicators.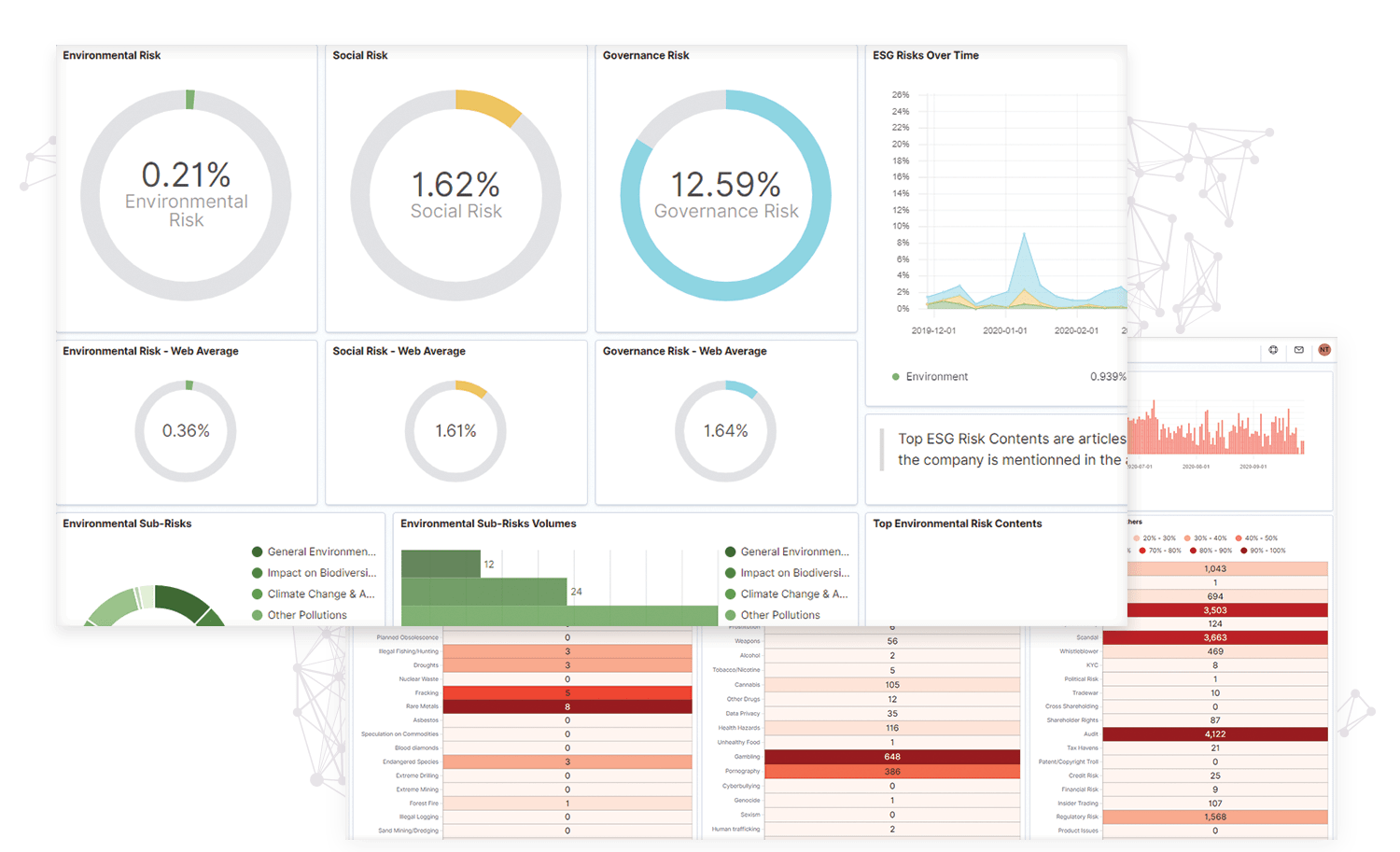 CORE PRODUCTS
TextReveal ® Modular API
A Modular Natural Language Processing toolbox to generate any analytics (sentiment, entity detection, risk factors etc.) on demand, based on SESAMm's data lake of 15B+ articles and messages.
Features Include:

Custom user-developed time-series and indicators
Custom analytics for any investment theme Industry-leading data lake: 15B+ articles and messages, 4 million sources
Multilingual analysis (sentiment, Named Entity Recognition etc.) including Chinese and Japanese languages
ESG Streams
Reliable, timely and comprehensive ESG alternative data on public and private companies, with 90 risk categories and daily data.
Features Include:

Proven alpha-generation and early warning use cases
90 risk categories tracked with full coverage of environmental, social and governance topics
Timely data delivered daily with controversy detection
Delivery available via API, flat files and live dashboards
PRODUCT R&D
SESAMm is launching new data streams on a regular basis and will soon release one focused on Sustainable Development Goals (positive impact). SESAMm will continue to provide off-the-shelf and custom datasets and indicators while constantly increasing our data and asset coverage (more than 3M companies currently, 10M in 5 years) and adding new algorithms.
INTERVIEW
Anduril Partners (AP) sat down with Sylvain Forte (SF), one of the co-founders of SESAMm, to get some insights on his firm:
---
AP: Could you tell me how SESAMm got started, and could you explain you came up with the name, SESAMm?
SF: FIrst of all, SESAMm initially stands for "Stock Exchange Statistical Analysis Mechanism. The small 'm' represents that last letter in Mechanism."
SESAMm started based on an academic research project in 2013, aiming to reproduce results obtained from the analysis of Twitter data for macro investment. The success of this initial research translated to a London client using our knowledge to execute live trades. That, essentially, launch our company in 2014.
---
AP: What is the composition of your company?
SF: As a deep tech company, SESAMm's team is mostly composed of engineers, developers and researchers, with 50 people focusing on R&D. The 20 remaining employees focus on customer success, sales and support functions. Our teams are based in France (Paris, Metz) and Tunis, and we're growing an office in New York.
---
AP: In a nutshell, what does SESAMm offer?
SF: SESAMm is fundamentally a Natural Language Processing shop. We provide alternative data that we have generated from running our NLP Algorithms over billions of documents. We also give clients the ability to generate their own NLP analytics on the massive data lake we provide them. As we source the data ourselves then clean it, clients are able to start their analysis almost immediately.
---
AP: What challenge are you solving and why do clients hire you over competitors?
SF: We solve a number of issues - from providing data to generate alpha in quantitative strategies to managing ESG and Retail sentiment risk. Our clients also rely on us to build signals and models (long short equity, asset allocation, hedging etc.). Our primary competitive edge comes from two sources: 1. Modularity - clients can build and modify their use cases and analytics workflows by simply tweaking or replacing our modules...like lego blocks; and, 2. Our Data - The shear size of our data is significant. We typically have 10 to 100x more data than our competitors, which can make the difference between a signal, sentiment or trade.
---
AP: How long does it take to start using your products once I become a client?
SF: It can start immediately for our off-the-shelf products, with no integration needed. Alternatively, we also help clients through custom projects to build specific use cases for them over the course of a few months. While this approach takes more time, it helps get concrete and highly customized results.
---
AP: What product or specific feature within your suite is gaining the most attention lately?
SF: ESG indicators are of particular interest to our clients who are looking to add timely insights to their ESG strategies while generating performance. We also see strong demand for insights on private equity funds. Our solutions are among the few that cover private assets extensively.